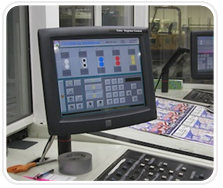 Welcome to Innolutions:
Printing and computer technology are our passions and we are really good at it. For more than 20 years, we have been helping press owners and operators save money and improve their quality by providing Web Printing Control solutions that work. We understand that quick response time, superior service and excellent knowledge are key to our and your success. We are not one of the large corporations but a family owned business with a dedication to our clients and our products. Our products are often called "the best value for the money" by satisfied clients. And, your ROI can be as quick as 4 months. As one of our clients stated: "My only regret is that we didn't implement the system sooner".
Please contact us today to learn how you can achieve better print quality and reduce waste with an attractive pay back.
Our Products

Color Controls
Color Register Control
Cutoff Controls
Web Guide